We've got a huge variety in stock now, including such Minor League teams as the Nashville Sounds, Detroit Tigers, Florida Keys, and many more. Also in stock are a variety of famous brand-name trademarks, including Irish Setter, Millter Lite Beer, and even the Kansas City Chiefs! We've got so many, we can't even list them all here and you'll have to see them for yourselves. Save big with the lowest-priced baseball hats in town, great for any occasion and fashionable year round!

Here's what we have in-stock now:

* Authentic Minor League, Sporting, Brand Hats
* Save big with incredible $.99 prices and styles
* High-quality cotton materials and production
* Huge variety in stock now and priced to go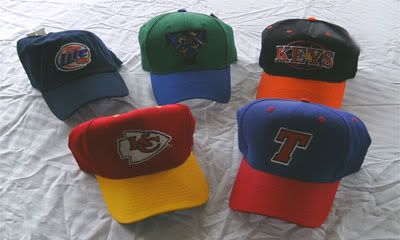 ...don't get caught in the sun without protection, which you're definitely be getting with these amazing baseball hats. Each hat sells for the astonishing low price of just $.99, and with so many different styles and variety, you're sure to find one to match your style and budget. We've got lots of low-priced sun block, too, so don't forget to pick some up for the coming season while you're here!